Fuels
Solid Fuel and Wood Burning Cookers

Solid fuel is an efficient and economical method of fuelling your home and every solid fuel Rayburn can be fuelled with manufactured smokeless fuel (MSF), compressed heat logs and peat briquettes. Rayburn solid fuel cookers offer maximum flexibility, performance and economy through a clever combination of air intakes, dampers and levers
Rayburn solid fuel and wood fired cookers offer maximum flexibility, performance and economy through a clever combination of air intakes, dampers and levers.
Every solid fuel Rayburn can be fuelled with natural, carbon neutral wood, manufactured smokeless fuel, compressed heat logs or peat briquettes.
Rayburn models are also available in 'wood only' - these attract a lower rate of VAT in many instances. Please ask your Rayburn retailer for more information.
Enjoy low running costs through this efficient and economical method of cooking and heating your home.
Gas Burning Cookers
Natural gas, probably most commonly known for its residential applications, is increasingly the fuel of choice in today's homes and is the cleanest-burning energy source for your home.
The use of natural gas produces less sulphur dioxide (the primary precursor of acid rain); less nitrogen oxides (the primary precursor of smog) and less particulate matter (which can affect health and visibility) than oil or coal
Natural gas is highly efficient and about 90% of the natural gas produced is delivered to customers as useful energy. In contrast, only about 27% of the energy converted to electricity reaches consumers
Oil Burning Cookers

What could be better than a traditional oil fired Rayburn for efficient heating and brilliant cooking
Oil heating is one of the most economical fuels for heating and cooking with over 1.5 million homes in the UK opting to use this fuel.
For a warm, cosy home with a plentiful supply of hot water for showers and baths - choose oil heating
LPG Burning Cookers

LPG is the cleanest burning rural fossil fuel available and undoubtedly the most versatile.
LPG is a low carbon emitting hydrocarbon fuel available in rural areas, emitting 19 percent less CO2 per kWh than oil, 30 percent less than coal, and more than 50 percent less than coal-generated electricity distributed via the grid.
Rayburn Colours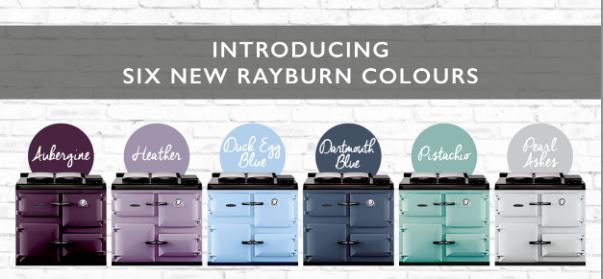 ---